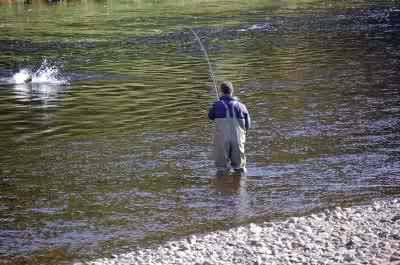 Courses
Courses for Salmon in Scotland for 2019
Spring three day salmon fly fishing courses on the River Tay at Lower Kinnaird:
April 3.4th & 5th
&

May 20th,21st & 22nd
May 23rd, 24th & 25th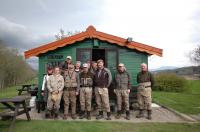 These fly fishing courses are designed for beginner, intermediate or advanced level instruction, it is tailor made to suit your aspirations and we will organise everything including equipment if needed.
Many people often ask why do they need to go on a course. We do all envisage that courses are for beginners learning from scratch, how to learn a new skill. This is in fact a totally erroneous understanding of the type of courses we try to present. Our courses are very much tailored for anglers who find they would like to improve either from the starting line or from any part of the learning curve which they now find themselves. We therefore try to answer the following questions which anglers might be asking themselves:
I would like to fish for salmon but do not know what kit to buy and how to know if it is what I need.
I have fished for salmon but have problems sometimes with wind or when wading to cast well.
I have seen casts performed either at demonstrations or on video but would like to be able to do them.
I can fish fine with a floating line but have difficulty turning over the fly when I add polytips or large flies.
I would like to try out shooting heads and would like to learn how to handle them and manage large amounts of running line?
I have some salmon tackle which I am not sure if it suits me but am loath to buy more in case I make a bad investment.
I would like to be able to fish a sinking line but find it difficult.
I have heard of Skagit lines – are they of any use to me and how would I know what I needed?
I would like to fish a really nice beat on the Tay and have the expertise on hand to ensure that I am fishing the beat well.
I would like a refresher on my casting before my fishing trips next year.
I would like to know how to read the river and what to use in differing conditions.
I have a habit of losing salmon - am I doing anything wrong?
It would be so nice to catch a salmon!
I really like the idea of learning how to cast better when I have a realistic chance of catching fish
As a lady angler I would like to learn to cast and fish with my husband who is an experienced angler but would also like to sharpen his technique.
And many others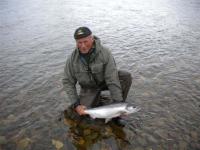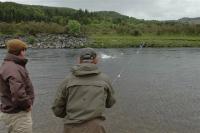 In other words we are dedicated to ensuring that all the attendees really get a lot out of the three days on the Tay. We have kept the charges as reasonable as we can to ensure that they are affordable to many salmon or budding salmon fishermen.
This is an opportunity to fish for spring salmon on the confluence of the river Tummel and the Tay with a realistic chance of a Spring fish. May is a great time to be on the river. There will be three fully qualified instructors and the resident ghillie. Accommodation and breakfast will be provided in a very pleasant guest house nearby whilst lunch and dinner will be prepared in the hut (which of course will allow those who are keen to take advantage of the long hours of daylight).

The fishing hut on Lower Kinnaird has been upgraded to a very high standard and is one of the best on the Tay system. It has full cooking facilities, hot and cold water, WC, fridge and freezer. We are very flexible and can meet most requirements. Vehicular access is very good throughout the beat.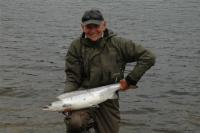 Lower Kinnaird fishes in all heights of water it has a lot of fast runs and pools which are perfect for the fly during lower water. In fact the great Ashley Cooper believed it had the best fly water on the whole of the Tay. The best known pools on the beat are: Junction Pool, Ferry Stream, Swimming Pool, Island Stream, Green Bank, Ash Trees, New Pool, Fir Trees, Kindallachan and Guay.
Cost £750 per person in April & £810 per Person in May for a three day course

The cost includes three days fishing Tuition and food at the hut with two nights accommodation for Monday and Tuesday or Thursday and Friday at the guest house. Further nights at the guest house can be arranged at competitive rates by entering the website at www.dalshian.co.uk or by telephone: 01796 472173.

For further details for these courses please contact Glyn Freeman on 01697 351 752 or mobile 07808 563 788
Illtyd Griffiths on 01654 781 365 or mobile 07974 942 853
And lastly please look at what one of our attendees had to say regarding the course:
"The invitation for the River Tay Spey Casting Course May 2013 came out of the blue and rather under short notice. Having fished for salmon quite a bit over the last few years I would not say that I am a beginner but the most enjoyable 3 days on this perfect fly water of Kinnaird House ( Lower Kinnaird Beat ) certainly improved the full pleasure and enjoyment of my salmon fishing a lot. The 3 AAPGAI instructors Illtyd, Glyn and Bob had a look from close for each of us in turns giving tips, advice and correcting bad habits in most useful and easy understandable way. Of course all of the 8 participants failed and struggled a lot but after a while we picked up what was meant and got the real feeling when the line went out much farther than ever before with a fine tune "sschhhh"– all this without the former huge body efforts but with elegance and fine timing of the perfect rhythm. Looking at some of the photos which were taken I do hard to believe the perfect D loops I had in the air with the latest Scott McKenzie 15ft #10 rod lent to me by Glyn for free. It did not come as too big a surprise that with this casting I managed to hook and land two beautiful lively spring salmon ( both sea-liced and this some 35 miles above the estuary ).
A huge THANK YOU to all 3 AAPGAI instructors Illtyd Griffiths, Glyn Freeman and Bob Sherwood."