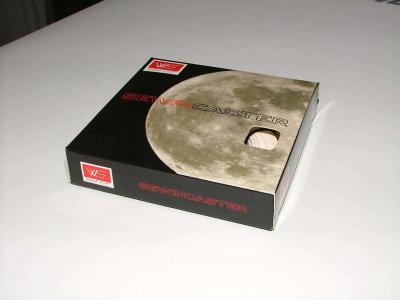 Products
"
SewinCaster Fly Lines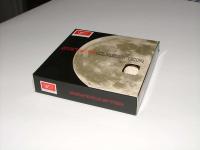 Sink tip lines have for many years been a favourite with most dedicated sea trout anglers. Many, myself included were very disappointed with many of the lines available commercially due mainly to a "tip heavy" feeling on casting leading to poor control and presentation. For many years I resorted to cutting and splicing fly lines to aid turnover and presentation and achieved this by splicing lighter sinkers to heavier floaters most often AFTM 8 floaters to AFTM 6 sinkers. These lines performed well as casting lines but unfortunately the fine tip did not aid the turnover of large flies such as Tubes or Snake lures.
Four years ago I decided that a new approach was needed to address this problem. After many prototypes had been tested by myself and friends, I eventually solved the problem and have developed the SewinCaster range of lines which should cover all the needs of both the addicted sea trout angler and the occasional fisher.
The tips of the lines have been weight balanced to give smooth, hinge free casting which is essential for the night fisherman. The lines have been developed in AFTM 8wt only as this is allows all the versatility needed by the night fisherman.
Many anglers (myself included) load rods with lines one line weight higher than the rod designation for night fishing, this aids rod loading on short lines and even though distance is compromised at ultimate range the advantages outweigh any disadvantages. These lines have been tested with a plethora of modern and not so modern rods and will work well on either AFTM 7 or 8 weight rods.
The three density compensated tips not only allow the fly to be fished at a specific depth across a range of river conditions but importantly create a direct striking path to the fly, a feature crucial for the effective hooking of sea trout. Casting, even when deep wading and line mending to speed up the fly, or for greater depth are made easy due to the floating belly and running line of these weight forward lines. The tips also aid in the turnover of large flies even for two large flies which is favoured by many.
Depth control is crucial to success and these lines by using casting angles and mending techniques allow all pools to be fished well. The floating line has been added to the range as this line will turn over large surface lures easily ; unlike many other floating lines that have been designed with very fine tips for small flies..
Whilst developed specifically as the first dedicated lines for sea trout fishers the SewinCaster lines perform well when fishing single handed for salmon and as saltwater lines in temperate climate.
| | | | |
| --- | --- | --- | --- |
| Flyline Profile/ Tip Length | AFTM Weight | Density | Sink Rate |
| Full Floater | #8 | Floater | N/A |
| Sink Tip - 15ft | #8 | Intermediate Clear Tip Type 1 | Approx 1.5 ips |
| Sink Tip - 15ft | #8 | Medium -Fast Sink Type 3 | Approx 3 ips |
| Sink Tip - 24ft | #8 | Ultra Fast Sink Type 6 | Approx 6 ips |
The lines retail at £45 per line or £150 for the set of four and due to their construction should give some years of great service mine are four years old having been used and sometimes abused and are like new!
Do these lines work!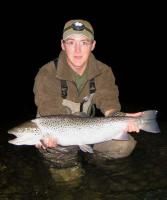 Steffan Jones with a cracking sea trout of nearly 12lb caught at night at Abercothi in June on SewinCaster intermediate tip.

This is what Steffan an expert sea trout angler who regularly fishes the Teifi and Towy has to say about SewinCaster lines:
"A poorly balanced outfit in the daytime has its own difficulties, a poorly balanced outfit at night equates to misery. All too often people use lines that are unsuitable for river fishing or casting larger flies. The usual culprits are lines that under-load the rod, require a good head length to be aerialised before the rod starts to load - which in itself is hard in river fishing situations. In addition, the thinner, longer heads tend to hinge when larger flies are deployed, which carries its own trepidations.
I have found the new SewinCaster lines to alleviate these problems, and would highly recommend them for night time sewin fishing, being specifically designed to make night time fishing an easier and more pleasurable experience. I have used these lines extensively over the season and find their profiles to be well suited to river conditions - the profile is great for roll casting and for turning over larger and bulkier flies. Great to see a line finally designed with the needs of the night time sewin angler firmly in mind."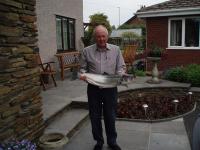 Richard Evans the Secretary of the New Dyfi Fishery and an expert sea trout fisherman with a 13.5lb sea trout caught in June on SewinCaster 15' Type 3 tip line.
According to Richard "This is the best sea trout line I have ever cast in 40 years fishing. This fish was caught on my second outing with this line - the first outing also produced three sea trout between 2.5 and 4lb."

I have some of the original lines. If one would like to purchase one or more please send a cheque for £45 per line made out to I T Griffiths and send it to Carnedd y Gors, Glandyfi, Machynlleth, Powys SY20 8SS. I will dispatch the lines first class post free on receipt of the cheque.