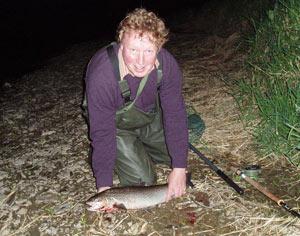 Night Fishing
Night Fishing for Sea Trout
Sea trout are known as sewin especially in South Wales to describe sea trout of all sizes. In North Wales large fish are called sea trout whereas the small fish of less than 2lb are known as sewin.
Sea trout spawn in our rivers in October and tend to spawn further up the tributaries than the salmon.
The eggs hatch in early spring and thereafter spend two to three years in the river firstly as unfed fry then fed fry before developing into parr.
At this stage in their development it is impossible to tell the difference between the sea trout parr and young brown trout.
The sea trout parr undergo changes in their appearance and become silver before migrating to sea as smolts usually in April/May and are mostly on average 5" to 7" fish at this stage.
Some return within months as small sewin of 12oz to 1 lb during August and September. The remainder stay out at sea and return to spawn as adult fish of around 3lb the following season.
The feed in the Irish Sea and especially Cardigan Bay is very good which allows our sea trout to grow rapidly.
Sea trout are multi spawners which gives our rivers a stock of varying age groups and sizes of adult fish.
Every year some rivers such as the Towy and Dyfi do produce a small number of fish in excessof 10lb but the average is about 3lb.
Adult sea trout are very wary creatures and are therefore difficult if not impossible to catch in the day unless conditions are especially favourable and the vast majority are caught by fly fishing in the dark.
I have specialised in this area of fishing for over 40 years and in conjunction river-to- river provide a bespoke service for the visiting sea trout fisherman on private beats of the Towy and Eastern Cleddau.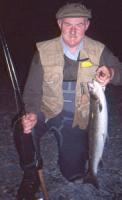 Whether our clients need fishing only or be accompanied by a professional guide we can provide a service and we also run three day courses on sea trout fishing each summer.
Professional guides do improve the visiting anglers chances of success immeasurably. Not only are all our guides very able sea trout fishermen they are all passionate about the sport.
Which line or fly to use, where the best places are, which pools fish best in a moon, what effect does the tide time have on the fishing, where underwater snags are and so many other questions can be answered by our guides which fast tracks one along the learning curve to success.
Twenty tips for tackling sea trout in the dark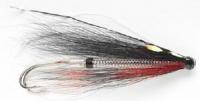 When new to sea trout fishing or when fishing a new beat, carry out a thorough reconnoitre of the water. This should include where to wade safely, where to land fish, where the trees are that may limit ones' casting, and where the safest places are to cross the river if need be. One should also look from the high banks of pools with polaroids when the sun is high in the sky as to where the fish are lying. Remember that the fish move out of their lies in the dark and unless you know the pool well it is better to fish the whole pool at night even those places which seemed devoid of fish during the day. Better still a good guide will save you much time and energy.
2. Always check the moon cycle especially before booking a sea trout fishing break. Try to avoid a full moon and ideally choose a time with a half moon or less (you cannot rely on clouds to blank out the moon!) If the moon is present or due to rise, try to position yourself in pools where you are facing the moon or in trees but never fish with the moon behind you.
3. A tide table is also necessary if the beat is close to the mouth of the river. Some rivers in Wales have the tide turning water back many miles upstream of the mouth. If he tide comes in and catches you unawares don't try to cross to get back to the car, either walk upstream above the tidal effect or wait (normally anything up to three hours depending on how far upriver you are} until the tide ebbs.
4. The standard rod for sea trout fishing in Welsh river is a 10'rod. These are fine for the bigger rivers but we have some excellent small rivers such as the Eastern and Western Cleddau, the Nevern, Aeron and Ystwyth and a great number of others which hold impressive numbers of quality sea trout where a 9' or a 9'6" would be a much better option on these more confined and intimate streams.
5. Rods should be 10' AFTM 7 or 8 and 9' -9'6" AFTM 6 or 7 for night fishing. It is a good idea to load the rod with a line size one heavier than the rod rating i.e. a 10' AFTM 7 rod would be loaded with a AFTM 8 line. This has the advantage of loading the rod with a short line and can be felt easily when casting, it also has the added advantage of allowing one to cast bigger flies. The disadvantage is the small loss of distance potential which in most night fishing situations is totally unimportant.
6. Fly lines can be kept to a minimum. Some very successful sea trout fishermen use only an intermediate line. Even the most fastidious would probably carry a floater, intermediate or sink tip, and possibly a fast sinker to fish deep water late at night. Leaders are also very simple, normal monofilament such as Drennan or Maxima in 8, 10 and 12lb will cover eventualities.
7. There are a plethora of sea trout patterns but many of the most successful anglers fish with only a couple of patterns in different sizes. Two very good and well travelled sea trout flies in Wales are a black squirrel tail and silver body fly with a red hackle, and a plain squirrel tail with silver body and blue hackle. Variants along this theme tied on hooks from 6 - 10, on 0.75 and 1" Waddington lures and on 1" to 2" tubes will be the makings of a very good fly box. A few surface lures and tandems or snakes should provide one with he correct ammunition to catch sea trout on all Welsh rivers.
8. Breathable lightweight waders are excellent for day fishing and are rightly popular. For night time fishing where one comes into contact with gorse bushes, thorns and even barbed wire, a wiser choice in many situations are neoprene. The biggest disadvantage of neoprene is sweating in daytime but at night this is not a problem in fact the opposite is true and for deep wading at night neoprene is much warmer as well as being a lot more robust.
9. Make sure that you dress comfortably warm and dry for night fishing. The temperature is much lower than the day and there is always a chance of a shower which without waterproofs can be a disaster for one's sport. One must also remember that any mist coming off the river is both cold and wet.
10. Always start fishing at dusk in the rough water at the neck of the pool with one of the smaller flies in your box. Try not to wade and as the light goes completely move along the bank to the tail of the pool which if possible should be fished from the bank. A square cast and a fast moving fly will often induce a take at this time and even a sub surface wake can work.
11. Later at night change tactics and move the fly more slowly. This often involves wading the edges of the deeper holes and by casting shallow angles with intermediate or sinking line and a bigger fly to give a larger silhouette one can vary depth and speed of retrieve.
12. Pre-dawn is the half light that precedes dawn. This is a great time to be out just before the birds begin their morning chorus, and a good time to catch fish reverting to dusk tactics. But do not waste time here as this period is over in less than half an hour.
13. Always carry at least two torches at night, even better the new LED lights give good illumination and also use little battery power.
14. An upstream westerly wind usually falls away on dusk, but not always. If you are not happy casting over your opposite shoulder i.e. over the left shoulder for a right handed caster fishing the right bank in an upstream wind, then try to locate those pools to be fished from the left bank where the upstream wind would not make life difficult. Even better, get a properly qualified casting instructor to teach you how to combat the upstream wind.
15. Warm nights are always the best when the air temperature is at or above the water temperature. Cold nights, especially when a mist ("tarth" in Welsh - I think this word conveys it better!) comes off the river are poor for fishing as are nights of easterly winds on west flowing rivers.
16. Periods when sea trout are active and are willing to take the fly vary greatly from a few minutes two or three times in a night to maybe one session of half an hour only. During this period you may get some or many offers but whatever you do after catching a fish do not rest the pool as this may be your only opportunity for some sport. Even when the fish "go off" persist as many single fish are caught when the majority are not interested and sometimes very big ones!
17. Many sea trout anglers fish two or even three flies at night. Fish with what you are familiar and confident with. If you are not happy to fish more than one fly in daylight it will certainly not be a clever idea to try it out at night. Remember many of the best sea trout fishermen fish just one fly and catch just as many fish. Whatever you decide, fish with confidence and you will have an equal chance of catching sea trout.
18. If you hook into a tree in the dark, always turn your back before applying force to pull it off. This may sound like common sense but many anglers have received very nasty injuries by not following this simple rule.
19. Fishing is pleasure. If you are unsure of the dark find a friend to fish with or a guide.
20. Remember all the sea trout you catch are very valuable to our rivers. If you don't need them for eating please return them carefully to the river and help to maintain the future of the species.