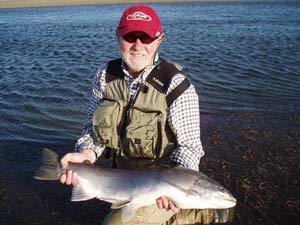 Trips to Rio Gallegos Argentina
A trip to Rio Gallegos is the ultimate destination for the angler wishing to enjoy some of the best sea trout fishing in the world. The Patagonian sea trout are legendary both in size and in the fighting ability. The average sea trout weighs a hefty 8-9lb and every year fish of upward of 20lb are landed. One of the great added attraction of these fish that they are caught in the day using nymphs, salmon hairwing flies, rubber legs, dry flies or in higher water tube flies.
The fishing is both varied and exciting with some large pools, stony runs and cut bank pools. The wading is very easy on gravel with no need for any special footwear. Southern Patogonia is a windy area but the wind is invariably downstream which aids the angler.
The scenery here is stunning with mountainous outcrops and a 3600 vista over a vast area. There is a great variety of wildlife from the countless species of birds to inquisitive foxes, skunks, hares and sometimes guanacos. the weather in February March is late summer with day temperatures of 14 - 200C
El Rincon Lodge is the home of over 45km of fishing with a great number of named pools enjoyed by only 6 rods. The lodge is near the confluence of the Penitente and the Reubens which form the Rio Gallegos. Fortunately the Penitente is always fishable even after a lot of rain and it would be unheard of to have lost fishing days due to a flood on this river. Rods fish in pairs with one guide for each pair and travel to the beats by four wheel drive vehicles. The food and comfort at the lodge is second to none, and all the staff are English speaking and very friendly. I go to Argentina twice every season and have in the past hosted groups of anglers. I am very familiar with the journey and with transfers etc in Buenos Aires.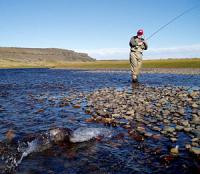 Accommodation at El Rincon Estancia
Departure: Normally the vast majority of fishers leave the UK on a Thursday arriving in Buenos Aires on a Friday morning at the international airport Ezeiza. Taxis can be booked to take one into the city where there are plenty of hotels for the Friday night accommodation.
Saturday: Flight from Jorge Newberry (domestic) airport to Rio Gallegos Saturday afternoon. .
Arrive at Rio Gallegos early evening to be met by minibus for final journey of 1hr 50 minutes to El Rincon.
Saturday evening we can enjoy a meal and an update of the fishing.
Sunday - Friday: After breakfast at 7.30 am meet guides 2 anglers per guide. Guides will take the anglers to their beats by 4 wheel drive (much of the driving is off road). There is flexibility in fishing the beats as there is 45km of river for only 6 rods. After the morning fishing return to the lodge for dinner (main meal of the day) - dependent on the weather this will be a barbecue or sit down meal inside the estancia. The afternoon is siesta time, one can go for a walk, fishing to the river (without a guide) or just take a rest or even sleep. At 5pm the guides will take the anglers to another beat . Return to lodge at about 10.30pm where a buffet is served and the anglers usually relax and reflect on their day.
Saturday: Depart after breakfast by minibus to the airport. Flight to Buenos Aires arriving early afternoon and transferred to hotel. The hotel most frequently used is the Hotel Florida on San Martin Avenue which is a modern hotel near the shopping district. The afternoon can be spent shopping - it is relatively cheap compared to most cities and there are a number of specialist leather shops along with all sorts of other places to find something unusual for your partner or family. Saturday evening can be spent dining out or clubbing for those people with the energy after a hard weeks' fishing!
Sunday : Depart by transfer to the airport for flight to UK arriving early Monday 9th March in London.
Accommodation: The estancia was modernised last year and affords very comfortable accommodation with single rooms for all guests. The staff of the estancia are friendly and helpful and will always go out of their way to ensure that all guests are really well looked after.
There is fishing tackle for hire at the estancia.
There is a cell phone which will allow one to phone home etc at the users expense. There is also an internet connection.
All beer and wines (apart from speciality wines which can be purchased separately) are free.
Must Have's: The following list is indicative rather than all inclusive:
Passport
Travel Insurance (Worldwide)
US Dollars for paying tips, transfer costs, any tackle purchased and internal flights in Rio Gallegos - these will be paid at the lodge.
A debit card to use at the ATM machine of the bank to withdraw pesos as spending money in Buenos Aires.One should ensure that they have told their bank of their travel plans before the trip to ensure that the card is functional. The same rules apply for credit cards which can be used for purchases of presents etc in Buenos Aires.
Although the weather is late summer one should bring thermals and wet weather clothing as when it rains it can be heavy. There are drying facilities in the estancia.
Sun cream and lip cream.
Camera to take pictures of fish etc as the fishing is strictly catch and release. Batteries for digital cameras can be charged using an adaptor in the estancia.
Fishing bag to carry tackle around in 4 wheel drive.
Caps or hats and polaroids.
Weather: The weather in late summer i.e. February early March is as it is here in late August early September with the chance of a heat wave or much cooler weather. The winds are sometimes strong but are downstream 95% of the time.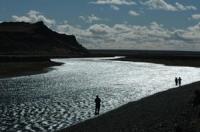 Fish: Expect to catch sea trout with an average of 8 or 9lb with some in the teens of pounds. There are some 20lb + fish in the system and a few are caught each season. . Brown trout average 2.5lb but some of 4.5 - 6lb are caught most weeks the Penitente being a super brown trout fishery with of course some sea trout. The fish in the system are very aggressive!
Tackle: A single handed rod of 9'6" or 10' for a 7 weight line is standard tackle - the river is in most places less than 30 yards wide.
A double handed rod of 13' is very useful in windy weather.
Lines are mainly intermediates with shooting heads for the two handed rod to allow for retrieving which is usually necessary to attract the fish. Floating lines can also be necessary to fish dry fly for these fish - a most exciting way of fishing when the conditions are right! In addition a medium/fast sinking shooting head for the two handed rod should ensure that all eventualities are covered.
A selection of poly leaders can be useful for accurate depth control but are not essential.
Leader material is usually fluorocarbon with a range from 10 - 18lb depending on the conditions.
The fish are caught on all sorts of flies from salmon hairwings such as Stoats Tails, with many anglers preferring rubber leg flies such as the Yuk Bugs and others using nymphs such as stoneflies or Prince Nymphs . Tube flies can also be useful in high water. Dry flies are usually rubber legged foam flies. Fish are regularly caught on all of these - presenting the fly to the fish is probably more important than the pattern. The guides are very keen on the anglers catching and will invariably help out if one is lost for ideas. There are also flies which work on the Rio Gallegos for sale in the estancia. No treble hooks are allowed only singles and doubles.
Waders are preferably breathable to avoid discomfort while fishing on warm days. The wading is very easy on gravel hence boot soles of any type are suitable.
Life jackets can be worn although there is little deep or dangerous wading.
Cost: The cost of the fishing here in 2018 is $4,300 which is excellent value.I will be fishing with a friend in February but if you are looking for some really good fishing in 2018 this is one place which is well worth visiting.
I am going down in 2017 to fish with a friend. I have fished the Rio Gallegos many times in the past and know both the river and the travel system pretty well. If you would like further information about taking a trip there you can contact me either on the contact page or by telephone on 01654 781365 Mobile 07974 942 853

.

Simon Frobisher and Mike Humphries with two good sea trout caught simultaneously on the Bridge Pool
I am going down in 2015 to fish with a few friends. I have fished there many times in the past and know both the river and the travel system pretty well. If you would like to join me, there are two rods still available for this week. If you wish to discuss joining us, you can contact me either on the contact page or by telephone on 01654 781365 Mobile 07974 942 853