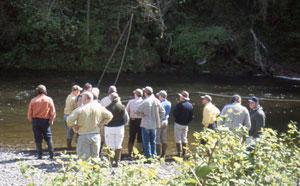 What is the AAPGAI?
What is AAPGAI
AAPGAI is he Association of Advanced Professional Game Angling Instructors. The Association was formed in 2003 by most of the original APGAI (Association of Professional Game Angling Instructors) qualification holders to maintain and improve standards within the instructor community.
It offers three levels of qualification: Provisional, Advanced and a Masters. Only the Advanced and the Masters are full members although in time all the Provisional qualification holders would aspire to the Advanced level. The Masters qualification even though it is primarily for assessors is open to all the Advanced qualification holders. All AAPGAI members including Provisional level are fully insured.
AAPGAI holds two Development/Assessing weekend events every year where members can share views perform workshops and assess candidates for their examinations. At the Advanced Level AAPGAI have three disciplines, Salmon, Trout/Sea trout and Flydressing, at the Provisional and Masters level only Salmon and Trout/sea trout are offered.
I would recommend that if one needs tuition at whatever level to seek out an AAPGAI member as the standards demanded by the Association are very high and the quality of instruction is the best available in the UK.
For further details please go to the AAPGAI site at: www.aapgai.co.uk or click the icon on the left of this page.